Quick Page Links:
Local Bee Removal Professionals
FDACS/DPI Apiary Inspection Bureau
UF/IFAS Departments & Program Links:
UF/IFAS Research Centers:
GULF COAST RESEARCH AND EDUCATION CENTER http://gcrec.ifas.ufl.edu
MID FLORIDA RESEARCH AND EDUCATION CENTER http://mrec.ifas.ufl.edu
TROPICAL RESEARCH AND EDUCATION CENTER http://trec.ifas.ufl.edu
INDIAN RIVER RESEARCH AND EDUCATION CENTER http://irrec.ifas.ufl.edu
FORT LAUDERDALE RESEARCH AND EDUCATION CENTER http://flrec.ifas.ufl.edu

Florida Medical Entomology Laboratory
http://fmel.ifas.ufl.edu
Last update: 07/25/2013 This page is maintained by Dan Culbert
Trade names, where used, are given for the purpose of providing specific information. They do not constitute an endorsement or guarantee of products named, nor does it imply criticism of products not named.
The Florida Cooperative Extension Service - Institute of Food and Agricultural Sciences is an equal opportunity/affirmative action employer authorized to provide research, educational information, and other services to individuals and institutions that function without regard to race, color, sex, age, handicap, or national origin.
Florida Cooperative Extension Service / IFAS / University of Florida. Nick Place, Dean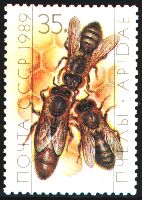 Home | Who We Are | Maps | Staff | Helpful Links | Okeechobee County | IFAS | UF | USDA |
Africanized Honeybee Information
Links to more AHB information:
Featured Creature UF/IFAS webpage: Africanized Honeybee

View Video on-line: Africanized Bees: Coping With the Challenge Length: 23:30
:
Bee Proofing your Florida Yard Okeechobee News 4/21/2008 and Okeechobee Times 4/24/2008
Bee aware: Look, listen, run Okeechobee News, 4/17/2008
Information about Africanized Honeybees Okeechobee Co. Emergency Mgt. Office. office
Local man dies after bee attack Okeechobee News, 4/12/2008
Okeechobee County Man Stung By Bees Dies Florida Dept. of Agriculture (press release) 4/11/2008
Contact this office if your company need group training or can use copies of training materials offered by UF.
UF/IFAS Okeechobee Extension & FDACS/DPI held training programs on Africanized Honeybees (AHB) in Okeechobee County on 4/15/ 2008 & 4/17/2008. Archived program flyer: OkeechobeeAHB.Training4.15.2008.pdf
Choosing the Right Pest Control Operator for Honey Bee Removal: A Consumer Guide A UF bulletin describing what consumers can expect from a professional bee removal service


UF/IFAS Okeechobee Extension Service does not endorse or recommend any of these vendors over any other. These professionals have requested that they be listed here as a service to the community. If you know of other licensed and trained pest management professionals that work in the Okeechobee area and should be listed here, please have them contact the webmaster. Because of the rural nature of our community, removal costs may be higher because of the distance from the removal companies to this county.
Alpine Bee Farms - Ronnie Sharpton - Palm City
1-800-668-6602
Bee Guys - Ricky Rudd - Clewiston/Labelle
863-673-2603
Clarke Pest Control - Donald & Tina Clarke
local Okeechobee phone - 357-6000 or (toll free) 866-896-6622
DAD's Pest Control - Dennis & Shawna Dunn - Okeechobee
863-467-8707 or 561-644-2950
Perry Pest Protection - Bryant & Jamie Perry -
5270 NW 30th St. Okeechobee, FL 34972
863-763-8155
Pioneer Pest Control - Fred Goudey - Okeechobee
1- 800-334-6917 x 200
Willie the Bee Man - Miami
Ask for Andre at: 1-877-633-BEES
Local beekeepers have recently formed an organization to support the industry and teach hobbyists how to raise bees correctly: Information about the Treasure Coast Beekeepers can be fond online at their website: www.Tcbeekeepers.org. They also maintain a Facebook page. Regular meetings are held on the 3rd Wednesday of each month at 7:00 pm.
Location: Classroom of the St Lucie County Extension, 8400 Picos Road, Fort Pierce.
Contact: Email TCBeekeepers@gmail.com,
Local bee hive managers must hold Beekeepers licensees issued by the Florida Department of Agriculture. They may be available to discuss how hives are managed. Local beekeepers include:
Jacob Weeks 763-3003
Bureau of Plant & Apiary Inspection (FDACS/DPI) The Florida Department of Agriculture regulates beekeepers and licenses persons who have beehives. Details are available on their webpage: http://www.freshfromflorida.com/pi/plantinsp/apiary/apiary.html
The Department maintains a state list of companies that have both Pest Control licenses AND have received training in bee removal. Click here to download the Nest/Swarm Removal Contact List . This list is for reference purposes only. (It is an Excel file – select individual county pages at bottom left.) Note: Please contact our office if you can not download or open this Spreadsheet file.
Local (District 12) FDACS Apiary Inspector:
Richard Dunaway
Richard.Dunaway@freshfromflorida.com
Telephone: 863-298-7711 Sebring, FL 33870-4864